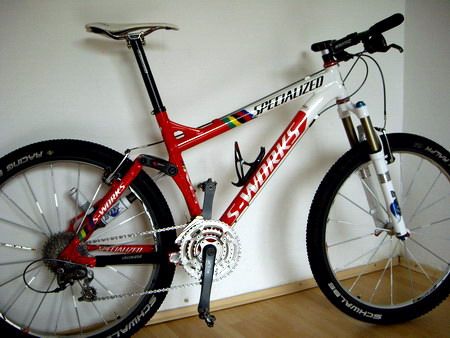 A Specialized S-Works Epic frame was my lifetime decision I did when I escaped a hardtail concept to a full-suspension race mountain bike. Nowadays, looking backwards, it was a very good decision, although it was one of the first Epic frame concepts (the year 2004) with a proprietary FOX Brain suspension technology.
I had been riding this frame for some time when I decided to experiment a bit. I was looking for something special, and unusual, thus I took airbrush design in the year 2006. At the same time, I decided to change my helmet as well as the frame's design. That was my first experience with bike tuning by airbrush.
The next design change came in the year 2008 when I was repairing the final finish of the frame and I "airbrushed" the FOX Float R Brain shock. The custom shock design followed the factory design of the FOX F100RLC fork in all details. The last change rose with a Specialized 3D badge on a head tube. More information about shock tuning and custom head badges you can find in the section "project".
Thanks to my previous experience, I chose an "extralite" cockpit, seat post, and seat clamp by Extralite again, Mavic CrossMax SL cross-country race wheels, and still reliable an "old-fashion" Shimano XTR M952 group (inc. shift and brake housing and cables).

I used my "old-school" Shimano XTR V-brakes with ceramic pads. They came from a newer Shimano XTR M970 group (like SPD pedals) and I was quite satisfied. A Shimano XTR M952`s combo set of brake and shifter levers was replaced by the SRAM X.0 system, thus the shifting was under SRAM X.0 Twister control and brake levers were taken from Extralite.
Red Chris King NoThreadSet headset was a perfect choice, as well as red X-Lite Titanium quick releases. Selle Italia SLR saddle with titanium rails did its job well.
---
Specification
frame
Specialized S-Works Epic 2004 /custom airbrush
fork
FOX F100RLC 2008
shock
FOX FLOAT R Brain /custom airbrush
headset zone
   headset
Chris King NoThreadset
   top cap/bolt
CarbonTi /titanium bolt
   headset spacer
carbon
crankset
   crankset
Shimano XTR Hollowtech I
   chainrings
Shimano XTR
   bottom bracket
Shimano XTR
shift zone
   gear shifters
SRAM X.0 Twister Shifter /titanium bolts
   cables/housing
Shimano XTR
   front derailleur
Shimano XTR M952 Differential Plate /titanium bolts
   rear derailleur
SRAM X.0 short carbon cage /KCNC ceramic bearing pulleys
   cassette
Shimano XTR Titanium
   chain
Shimano CN7701 DuraAce/XTR
wheels
   hubs
Mavic CrossMax SL
   quick releases
X-Lite Titanium
   rims
Mavic CrossMax SL Ceramic
   spokes/nipples
Mavic CrossMax SL
brakes
   front brake
Shimano XTR V-brake /ceramic-allowed braking pads
   rear brake
Shimano XTR V-brake /ceramic-allowed braking pads
   brake levers
Extralite UltraLevers
   cables/housing
Shimano XTR
pedals
   pedals
Shimano XTR SPD
control
   handlebar
Extralite UltraBar UL
   grips
Extralite UltraGrips
   handlebar ends
---
   stem
Extralite UltraStem UL2 110mm /Extralite titanium bolts
seat zone
   seatpost
Extralite UltraPost UL2 /Extralite titanium bolts
   seatpost clamp
Extralite UltraClamp /Extralite titanium bolt
   saddle
Selle Italia SLR /tubular titanium rails
tyres
   front tyre
Schwalbe Racing Ralph UST 26x2.1" EVO Kevlar
   rear tyre
Schwalbe Racing Ralph UST 26x2.1" EVO Kevlar
   tubes
---
others
 
Specialized water bottle cage /titanium bolts