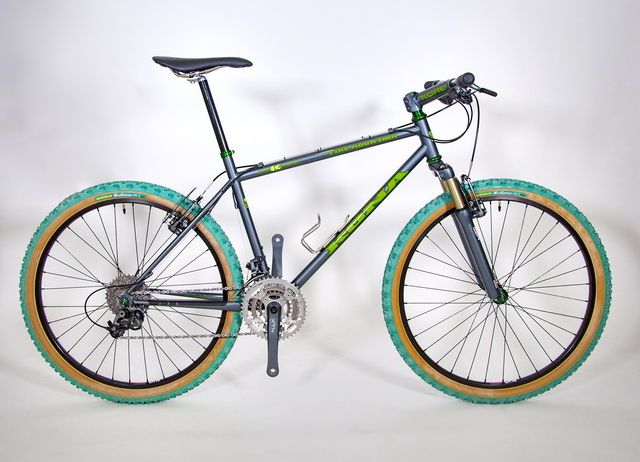 I really like retro bikes. My last project, the 1994 Nakamura Vertical, which I completed last year for one of my friends, kicked me into a new retro project...and I did not hesitate. I had some more unused Shimano XTR bike components, as well as a brand new pair of Michelin Wildgripper tires, thus I decided to build a new bike - Kona Fire Mountain.
The solid basis of the 1994 Kona Fire Mountain is a steel frame made from cro-moly Tange tubes. I bought this frame from a guy who wanted to throw it out. The frame looked good, frankly speaking, with solid, but very much used and here-and-there damaged painting. I quickly decided to repaint the frame in my custom colour and design (inc. stickers). In addition, I decided to re-work some brake and shifter cable stops per the new bike components' needs. It`s still the 1994 Kona Fire Mountain but with a fresh rebuild and custom design. I think that this design hasn`t been ever used by Kona, has it been?

The 1996 Rock Shox Judy SL suspension forks were again my only choice. Thanks to my garage corners I found the one that fit the project very well. I did general fork restoration some time ago and the fork has not been used since then. Like in the previous "retro" project, I re-sprayed the fork legs, crown, and brace in Audi Monsoon Grey, the same colour as I made the frame. The fork got new oil in the damping cartridge and a new set of Rock Shox stickers.

Similar to frame and suspension fork parts, I did re-spray the Kore LiteStem, too. That was my choice and I`m happy I did it. The stem got new black titanium bolts and washers, and a new set of custom Kore LiteStem decals copying a design of the Kona decals.
The Easton E9 TaperLite MTB handlebars were too short for today`s XC riding and therefore I extended them with the extender plugs up to 600mm. The new cockpit has been completed with a pair of legendary ODI Attack MTB grips.
Chris King NoThreadSet...in green colour...great choice ever, I thought. Nothing to say more. Headset spacers from Parts of Passion (POP) are a must when tuning a bike riding position.

The old-school 3 x 9 drivetrain and V-brake setup came to my mind from the legendary Shimano XTR MTB group. Well, the brakes and top-pull derailleur in my stock were the initial triggers to modify the brake and shifter cable stops on the frame. I didn`t want to mount back the cantilever brakes and down-pull front derailleur, thus all these changes on the frame. I re-used the Kooka Racha brake levers, that have been taken from another retro bike in my garage. The levers fit my needs, although they are not V-brake type.

Back again to the drivetrain. All drivetrain components came from Shimano XTR 952 group, as I said. I mean front and rear derailleurs, shifter pods, cassette, crankset, and bottom bracket. All of them represent old-but-good MTB XC standards from the mid-to-end '90s. Shimano has managed housing and cabling.

Classic mountain bike rides on classic mountain wheels, right? My 26" wheels were built with green Tune hubs and black SUN rims, laced with black DT Swiss spokes and nipples. A key component used in this project was new-old-stock green Michelin Wildgripper tires, reserved especially for this project for years. Green Tune AC's quick releases made up the wheels definitively perfect.

I really like retro bikes. I enjoyed this project and that was big fun building the 1994 Kona Fire Mountain in the custom design I dreamt of. I believe that this Kona will appear to be a unique bike in the old-school world of mountain biking. Enjoy this Kona and send me back your thoughts.
---
Specification
frame
1994 Kona Fire Mountain
fork
1996 Rock Shox Judy SL
shock
---
headset zone
   headset
Chris King NoThreadset
   top cap/bolt
Chris King NoThreadset /black titanium bolt
   headset spacer
Parts a Passion (POP)
crankset
   crankset
Shimano XTR FC-M952
   chainrings
Shimano XTR
   bottom bracket
Shimano XTR BB-M950
shift zone
   gear shifters
Shimano XTR SL-M952
   cables/housing
Shimano SIS-SP41
   front derailleur
Shimano XTR FD-M953
   rear derailleur
Shimano XTR RD-M952-GS
   cassette
Shimano XTR CS-M960
   chain
Shimano XT CN-HG93
wheels
   front hub
Tune Mig 70
   rear hub
Tune Mag 170 MTB
   quick releases
Tune AC16+17 MTB
   rims
SUN CR18 / VELOX rim tape
   spokes/nipples
DT Swiss Champion/DT Swiss Classic
brakes
   front brake
Shimano XTR BR-M951
   rear brake
Shimano XTR BR-M951
   brake levers
Kooka Racha Cantilever
   cables/housing
Shimano
pedals
   pedals
---
control
   handlebar
Easton E9 Matrix TaperLite 600mm /extender plugs
   grips
ODI Attack MTB
   handlebar ends
---
   stem
Kore LiteStem 120mm /black titanium bolts
seat zone
   seatpost
Shimano XTR SP-M900 26,6/330mm
   seatpost clamp
Tune Würger 30,0mm
   saddle
Selle Italia Flite Titanium
tyres
   front tyre
Michelin WildGripper Lite S Front 26x2,1"
   rear tyre
Michelin WildGripper Lite S Rear 26x2,1"
   tubes
Maxxis Ultralite MTB
others
 
Lizard Skins Carbon Leather Chainstay protection
 
ADP Carbon Brake Booster /black titanium bolts