trek elite 9.9 ssl
This is my new carbon race hardtail. In 2009 I ended up using my Specialized Epic and I intended to come back to the hardtail concept. I found the Trek Elite 9.9SSL frame. My target was to build a light carbon hardtail with disc brakes and with a focus on light-weight and time-proven bike components.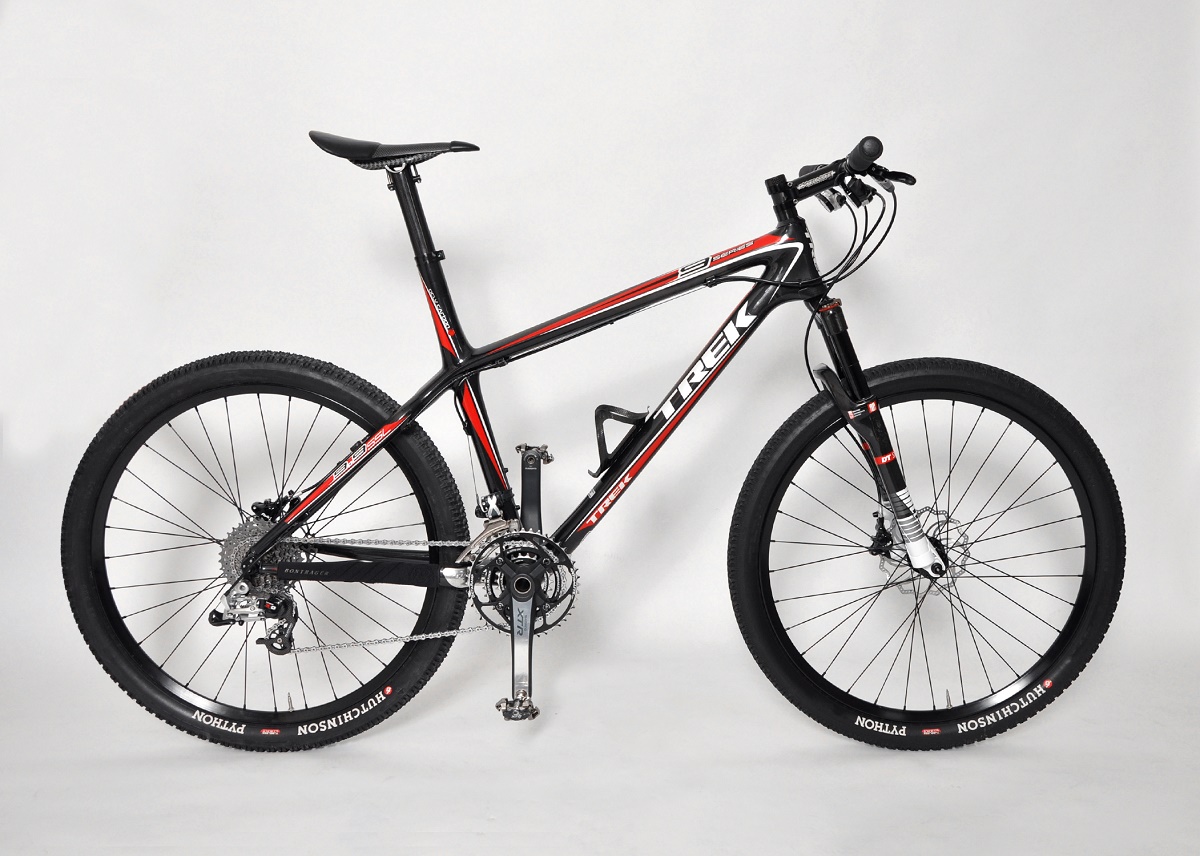 Trek built the best Trek`s factory carbon frame ever. The frame is using all high-tech technologies available with OCLV Red Carbon. An interesting point is demountable V-brake nuts in the frame. These have not been available for the mass-market version. Naturally, the frame disposes of Trek`s BB90 bottom bracket standard as well as fully integrated Cane Creek headset.
I have selected a new DT Swiss XRC 100 Race fork instead of the older FOX F100RLC, which has been definitely moved to Andrejka`s custom bike. 100mm travel of the fork fits well the applicability of the bike.

As in other projects, I have assembled my favourite Extralite cockpit (UltraStem UL3 stem and UltraBar UL handlebar). SRAM X.0 grip shift system has been replaced by X.0 trigger shifters. The shifters have been upgraded with carbon shifter levers by Z-Components and with some small black anodizing parts. Avid Matchmaker X is a must-have component in the SRAM brakes-shifters setup.

SRAM X.0 rear derailleur was additionally tuned by carbon derailleur pulleys with ceramic bearings and a custom inner carbon cage.
I was riding FRM disc brakes for three years, but for the season 2012, I change them with new Avid X.0 2013 disc brakes due to one broken FRM brake lever. New Alligator Starlite and Windcutter rotors (160/140) replaced burn-out FRM rotors.

I truly rely on many Extralite components, thus I mounted light Extralite OctaRamp (44/32/22) chainrings, ExtraBolts chainring bolts in advance, and UltraStar2 headset expander. Together with the chainrings, I`ve replaced Trek BB90 bottom bracket bearings. Enduro has managed that with Zero Ceramic bearings.

Synthetic PowerCordz gear cables with Shimano XTR housing have got another opportunity on this bike to improve shifting, again in black. Another change was ActionTec titanium spindles for Shimano XTR pedals.
Several top-line tuning components have been delivered by tune (e.g. GumGum headset carbon cap, DC16+17 carbon-titanium quick releases, or Speedneedle Marathon saddle). A few design and "weight-weenie" components taken here are AX Lightness water bottle cage or Mcfk seat post clamp. All relevant bolts have been replaced with their titanium alternatives.

One more change was a new custom-built carbon seat post. A seat post has been fully hand-made in Switzerland by ceetec based on my personal specification. It perfectly fits the frame. The Seatpost weighs 106 grams.

I initially began with a factory set of Mavic CrossMax SLR Disc 2010 wheels and Continental Race King UST tires.
However, during the season 2012, I decided to change the wheels with Litespeed. Therefore I ride here custom-built wheels on DT Swiss 240s hubs, DT Swiss Aerolite spokes, and Sapim nipples. The rims have been managed by NoTubes, an older ZTR Olympic edition.
The wheels run on Hutchinson Python tubeless tires. Stan`s NoTubes sealant avoids a need for inner tubes. A pair of these wheels weights 1425 grams, including NoTubes rim tape and valve stems.
---